shopDisney Is Your Destination for All Things Back to School!
New backpacks, lunch totes, and pencil cases are here. Go to shopDisney to get your back to school shopping started! Have you seen the new collections?! 
GO HERE TO SEE THE NEW BACK TO SCHOOL COLLECTIONS!!!
Ariel Lunch Tote
Both of my daughters love the Disney Princesses. My oldest daughter will be starting middle school this year so for her, she's a little out of this stage. However, my youngest daughter is going into First grade and LOVES the new Ariel Lunch Tote out at shopDisney! She says, "It's sparkly, it's shimmery, its something neat, and you can pack stuff in it for something to eat, lol." I'm personally a fan of the sale price!  😉 
Trending Disney School Supplies for Kids
When it comes to my son. He is a huge Star Wars fan! This is the new Star Wars backpack that was recently launched by ShopDisney! What do you think? I really like the fact you can have this backpack personalized. That's a neat addition. Looking at this bookbag takes me back to when I was younger and playing the Star Wars game on Atari. Oh to be a kid again!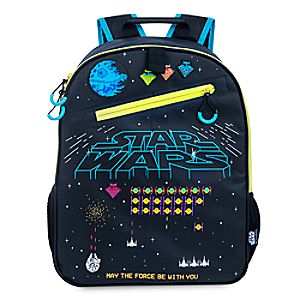 My favorite backpack out of all of them is the Stich Rolling Backpack! I may snag this one up for our littlest guy that we have in our care. We are foster parents as well as having three children of our own. We are always looking for fun bags for the kids. Sometimes they come in to care with nothing. It breaks my heart. I love how cute and fun this bag is and I think it will help make him smile. 🙂

Wrapping Up
Did you get a chance to see the Incredibles 2 movie this summer? We are huge fans of the Incredibles movies. If you want to check out what we did before heading out to see the movie go here! It was a TON of fun!!! The movie was, to say the least, Incredible!
What did you think of the movie? We really liked it! The kids loved the movie so much that when my son spotted the Incredibles pencil case. He was super excited! How neat would this be for a school accessory?!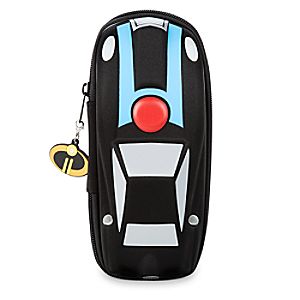 PS: Just in case if, you see something at Back to School item at shopDisney that you really like be sure to grab it sooner rather than later. I have had items sell out before I could grab them. This shop is awesome because I don't know about you, but me personally I don't like paying high prices on eBay. So just in case. 😉 I hope that helps! Good Luck! 🙂 
SaveSave